---
Financial Services  –  Coaching  –  Healing  –  Self Development Tools
---
Financial Services
In my 20+-year career in investment management, I have been involved in many of the aspects of running and governing investment management businesses. I studied Econometrics with a specialization in Quantitative Finance; received my CFA-charter; was President of CFA Society Netherlands; worked in the investment management department of a public pension fund; was a co-founder of a private equity fund of funds business, developing, marketing, selling, investing, and managing products and services; ran a management company managing publicly traded equity and fixed income funds; and have been Chairman of several alternative investment funds.
Mikan B.V. offers support to your financial services organization in the form of advice, consulting, and Directorships.
---
Coaching
In 2012, I helped some friends heal and deal with the things they were going through, mentally, emotionally and physically, at the time using a combination of Reiki and informal coaching. I then took a 7-week trip to Nepal, Tibet and India. Whilst there, I realized I was passionate about assisting others in this way. I decided to enhance my skills in these areas.
I looked to the International Coaching Federation ('ICF')¹, the largest global organization of professional coaches. I selected Consciousness Coaching² as my program of choice. I completed the Master Levels I, II, III part 1, and III part 2, all in 2013. An additional step could be to take the exam and register with Consciousness Coaching and/or ICF, although I have not felt that calling.
What is Coaching?
In short, Coaching is a process that enables learning and development to occur.
How do I coach?
I coach by guiding you in whatever is appropriate for you, whether that be getting clarity on what your goals are, understanding how to achieve them, and/or achieving them. In doing so, I strongly trust my intuition to guide us.
This approach, particularly the use of intuition, can be very different to how most people coach. My experience is however that this best supports the clients I coach in the long term, even though the learning process may be more intense than through another approach.
---
Healing
I first became interested in Reiki after seeing my mother, a chronic migraine sufferer, being healed of her affliction through a Reiki treatment when I was about 14 years old. It took a while for me to realize I wanted to do something with that too, and became a Level I practitioner in 2006. In 2011, I became a Level II practitioner, and in July 2014 I became a Reiki Master after a one-year apprenticeship with my own Reiki Master. Being a Reiki Master allows me to not only give Reiki to others, but teach others how to give Reiki as well.
What is Reiki
Reiki can be described as universal life energy. As with any energy, being asked what it is exactly is less straightforward to answer. There is a lot that can be found online about Reiki and below is an extract from Wikipedia.
Reiki (霊気, /ˈreɪkiː/) is a spiritual practice developed in 1922 by Japanese Buddhist Mikao Usui, which has since been adapted by various teachers of varying traditions. It uses a technique commonly called palm healing or hands-on-healing as a form of alternative medicine and is sometimes classified as oriental medicine by some professional medical bodies. Through the use of this technique, practitioners believe that they are transferring universal energy (i.e., reiki) in the form of qi (Japanese: ki) through the palms, which they believe allows for self-healing and a state of equilibrium.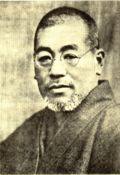 Mikao Usui 臼井甕男 (1865–1926)
Reiki is described by adherents as a holistic therapy which brings about healing on physical, mental, emotional and spiritual levels. The belief is that the energy will flow through the practitioner's hands whenever the hands are placed on, or held near a potential recipient. Some teachings stress the importance of the practitioner's intention or presence in this process, while others claim that the energy is drawn by the recipient's injury to activate or enhance the natural healing processes. Further to this notion, the belief is that the energy is "intelligent", meaning that the Reiki knows where to heal, even if a practitioner's hands are not present in the specific area.
In Western Reiki, it is taught that Reiki works in conjunction with the meridian energy lines and chakras through the use of the hand-positions, which normally correspond to the seven major chakras on the body. These hand-positions are used both on the front and back of the body, and can include specific areas (see localised treatment).
---
Self Development Tools
Over time, I have gratefully used many tools kindly provided by others to support my growth. As my learning progressed, I was able to share some of that with others. More recently, I find myself called to make more of what I have learned available. I have decided to publish books and other e-learning tools to support their learning and growth.
The contents of these various tools are based on my experiences. As people do, I too progressed through various levels of Self awareness. Some relevant experiences that have contributed to this are the following. I recall for example realization in class at school at age 11 that I had not made any decision in my life consciously, but rather did things sort of from automated responses. I was also made aware of the existence of the healing treatments of Reiki at age 14.  Furthermore, I was from a young age, where I recall feeling quite withdrawn from the world, fascinated by the freedom that seemed to be available to the characters in fictional books such as fantasy and science fiction. I wanted that too. I later on saw that freedom was also claimed to be (ultimately) found also in the religions of the world, and I read many books on those topics. As my library grew, as did my knowledge of the subjects discussed therein, so did an increasing sense of being dissatisfied with just reviewing what others had written. An innate desire for experiencing what I had read arose in me, and I pursued that. Relentlessly.
I have since had many interesting, eye-opening, sometimes difficult, and sometimes beautiful experiences. A (nearly) unwavering commitment to doing what was right, healing (parts of) myself and others, a growth of my intuitive Knowing, a familiarity with working with my I Am Presence to create experiences to be aware of, realizations such as "I Am that" (and that, and that, and that…), and realizing experientially the inherent emptiness of things, have all been part of my Life's experience.
For those interested in working with what I am and have learned, please also consult the Products page from time to time.
---
1 http://www.coachfederation.org/